Saturday, March 12, 2005
special lies with brit hume
Something that's always good for a laugh is checking in with sites like
Media Matters
to see what kind of crap the conservative media has been dishing out. I thought
this
certainly tops my list of faux news...
On the March 10 edition of Fox News' Special Report with Brit Hume, La Jeunesse reported that ANWR would produce "10 billion" barrels of oil or "nearly as much as we import [from] Saudi Arabia"; suggested that "experience shows" that drilling would not "hurt migrating caribou" in the refuge; and stated that the "oil exploration area ... total[s] 2,000 acres, or less than one-tenth of 1 percent of the refuge." In fact, available evidence contradicts each claim.
Oh this guy should do stand up! The truth is, by definition, wilderness could not possibly occupy the same space with oil wells. Also, government studies have shown that there is a possibility of three billion barrels of oil in ANWR, far from the Fox reported ten billion. But enough of that garbage, let's move on to some more lies!
Appearing on MSNBC's Hardball with Chris Matthews on March 9, Ginsberg, a GOP lawyer and MSNBC contributor, claimed that "the personal accounts -- well, it's going to be part of the solution. What this is all about is putting the whole program in a solvent way."
What this cut-up obviously didn't know was that a "senior administration official"
admitted
that private accounts would not address long term problems. This confirms my belief that even though they are a completely worthless news agency, they certainly provide us with some good laughs.
better cash in the food stamps!
Thanks to George W. and his pals in Congress, over 300,000 family's could be cut from the food stamp program if they receive other government services. But it's not just food stamps, it's a number of food aid programs for the poor.
Cuts in food programs for the poor are getting support in Congress as an alternative to President Bush idea of slicing billions of dollars from the payments that go to large farm operations.
But wait,
there's more
!
Instead, Republican committee chairmen are looking to carve savings from nutrition and land conservation programs that are also run by the Agriculture Department. The government is projected to spend $52 billion this year on nutrition programs like food stamps, school lunches and special aid to low-income pregnant women and children. Farm subsidies will total less than half that, $24 billion.
Why am I not surprised that George W. Bush and his Republican comrades are going completely screw the poor! But the White House has got different plans for that money...a war.
Friday, March 11, 2005
got kerry?
Kerry gave a smackdown to the Bush plan to go drillin' in ANWR. But then again, it was probably Dick Cheney's plan. In the
San Francisco Chronicle
...
"The only mandate this administration has is for unity, to find common ground,'' Kerry said in an interview with The Chronicle. "The American people did not vote to drill in ANWR.''
How true.
Kerry characterized the president's plan for the Arctic National Wildlife Refuge as a "phony, absolutely fraudulent offering,'' which vastly overstates the potential to reduce gas prices or the nation's reliance on foreign oil. He called it the "ideological linchpin'' to a broader, more reckless environmental policy.
Nice to hear him stickin' it to the man again! Check it on
Higher Pie
.
dissent in the gop ranks
Bush is
still
losing support, even among his own party! A new AP-IPSOS survey claims that the President's approval for Social Security privatization stands at only 37%. Domestic issues is lacking with 53% disapproval. Domestic, of course, concerning health care, education, and the environment. The same can be said for the handling of Iraq, but many feel is fightin' the terrorists. Ha! I won't get into that now, here are the results...
Domestic issues: Approve 44% Disapprove 53%
Foreign policy and terrorism: Approve 52% Disapprove 46%
Iraq: Approve 45% Disapprove 53%
Economy: Approve 47% Disapprove 50%
OVERALL: Approve 48% Disapprove 50%
This is BIG news!
Check out all the results here (pdf).
Thursday, March 10, 2005
thursday poll dancing
I've stayed away from Gallup recently, but I thought I would see what was shakin' and I've got some bad news for USANext. Even though they launched what could be the worst advertising campaign ever, they have miserably failed in convincing the public that the AARP is in fact run by Satan. Why am I not surprised?
Most Americans view the AARP favorably. Those aged 65 and older are least likely to hold a positive view.
I don't know what's up with the 65+ group, perhaps that's the Gallup talking or is there a basis to it?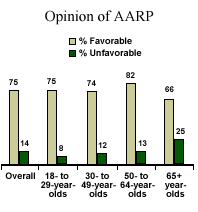 On a local note, Julian Castro is ahead in the polls in his race for mayor according to a
Survey USA study
.
a new mccarthy
I have a question...to bad I couldn't ask it at the President's town hall meetings where only Republicans are permitted entrance, and then you probably have to be held at gun point while reading your question from an index card. What a system of debate we have got here!
Dean has already slammed Dubya
for this idiotic and "un-American" action. Harsh words? Hardly. How the hell can you have a debate when one side of the issue has to stand in a "free speech zone" five hundred feet from the event! Not only that, but a few weeks back some government officials where barred from his "town hall meetings" because of their affiliation with Democracy for America groups.
Sounds like we've replaced Joe McCarthy.
Wednesday, March 09, 2005
so long, truth!
The Republican noise machine has been shattering ear drums with their scorn and hatred for Dan Rather which was sparked by a single incident that would bring an end to the journalist's career. The days after CBS produced letters and memos claiming that Dubya was AWOL, Republicans labeled it "Memogate" and did something they rarely do, exercise their constitutional right to assemble. Protesters organized outside CBS in the defense of truth and George W. Bush. What an oxymoron. But as their stupidity, and the flaw of an outstanding journalist was blown to the nth degree, Rather decided to step down. Tonight he will leave the network, but tomorrow, Rush, Bill, Sean, Brit, and other misleading and equally unapologetic talking heads will do yet another show. SO LONG TRUTH!!!

Tuesday, March 08, 2005
blaming it on clinton
With news of
yet another surgical procedure
heading the way of Bill Clinton, I became especially disgusted with some of the GOPropaganda. It seems that, under the Bush administration, everything that goes wrong is not the fault of the current president, but Bill Clinton. In the days after September 11, Rush Limbaugh hit the airwaves blaming the terrorist attacks on our former president, the same has been done with about every challenge America faces. Troops getting killed in Iraq? Clinton. Recession on Wall Street? Clinton. Your house burns down? Clinton. Unfortunately, he has become the RNC's whooping boy so that Dubya doesn't have to take the fall for anything. Let's face it, Ford was the excuse me president, Bush is the excuse president.

Hope all goes well for President Clinton!
Monday, March 07, 2005
support the troops, kinda
The GOP's meaning of support the troops is obviously a little different then what you have in mind. Veterans will now have to pay a $230 fee per year to receive services if they are neither poor or disabled. Never the less, they devote their live's to their country, but, once you retire, it's gonna' cost you! What a better way to say "We Salute You!"

tolerate
Good news for our homosexual friends as a Maryland bill to ban gay marriage
died in committee
today. At least we know that a move for truly equal rights is making progress, but this positive bulletin is met by a reminder of what really needs to be engraved into this nation.
Hundreds held vigil
for a young, gay male who had been beaten unconscious outside a hotel in Santa Fe. As the AP wrote...
The attackers later followed Maestas [the 21 homosexual] to a hotel, knocked him to the ground and repeatedly struck him in the face and head, according to investigators.
I think, and I know many agree, that gay marriage would be a step in the right direction, but what we need is to have tolerance. People could start by not bludgeoning young men because they are different, or turning them into outcasts because they are not like the rest. And perhaps our President could create a stiffer penalty for hate crimes, rather than turn his back on such violent acts.
Sunday, March 06, 2005
excuses
The Italian hostage who was met with a barrage of American bullets when she was trying to leave Iraq on Monday has refused to except the US Military account of the incident. She is now claiming that she might have been targeted for her nation's cooperation with terrorists.
Italian hostage Giuliana Sgrena, shot and wounded after being freed in Iraq, said Sunday U.S. forces may have deliberately targeted her because Washington opposed Italy's policy of dealing with kidnappers.
The
AP report
continues...
Friday evening's killing of the agent and wounding of the journalist, who worked for a communist daily, has sparked tension with Italy's U.S. allies and put pressure on Prime Minister Silvio Berlusconi to take a hard line with President Bush.
Oh yeah, where real popular on the world stage right now, aren't we! I think it's time for Rummy to come up with some answers.
Now that all posts are old and moldy, you're more than welcome to steal what you want. Email me