I've stayed away from Gallup recently, but I thought I would see what was shakin' and I've got some bad news for USANext. Even though they launched what could be the worst advertising campaign ever, they have miserably failed in convincing the public that the AARP is in fact run by Satan. Why am I not surprised?
Most Americans view the AARP favorably. Those aged 65 and older are least likely to hold a positive view.
I don't know what's up with the 65+ group, perhaps that's the Gallup talking or is there a basis to it?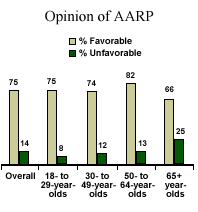 On a local note, Julian Castro is ahead in the polls in his race for mayor according to a
Survey USA study
.